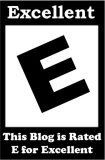 Back in December, Holly awarded me
this
. :) Surprised me as I tend not to think of what I do here as excellent, I see what other bloggers do and how they put things and I tend to think they do a whole lot better job of it.
Here's what I'm to do if I accept this award:
By accepting this Excellent Blog Award, you have to award it to 10 more people who's blog's you find Excellent Award worthy. You can give it to as many people as you want but please award at least 10. Thank you out there for having such great blogs and being such great friends! You deserve this! Feel free to award people who have already been awarded…
The query then of course is who do I award this to, and then to me comes the question...would they even notice? :) Not that I suppose it matters if they notice...or does it? Hmm...do I really want to delve into that one today? :) I do though what to note people that perhaps haven't been noted before, for this award or that perhaps I haven't noted in the past.
1.
Voice of Vision
. The more I read the posting of JD Hatfield, the more I appreciate his wisdom. He writes good stuff. Not a whole lot of fluff in there.
2.
My Hubby
. Doesn't post all that often, and he mixes in fluff with other stuff. But the other stuff is usually worth thinking about, and the fluff can often make a body laugh. :)
3. Connie at
Practicing Theology
. I've really appreciated her discernment postings. I would like at some point to use them with Justin. Solid down to earth thinking woman.
4.
Rebecca
. What do I like about her? She is solid in her beliefs, and she's the queen of links and pulling people together on her blog. Sunday Hymns, recipes, weather, dogs you name it, she's probably done it. :)
5. Sallie at
A Gracious Home
. Sallie is open about parenting, her faith, her queries. I like much of what she does, not all of course, but sometimes that's the point. :) Her girlie is a bit younger than my boy child so it's fun to see/watch her daughter grow up as my boy does. :)
6.
Pure Church
. Solid posts, makes a person think, knows God well. :)
7. I do appreciate Vicki over at
Windows to my Soul
. A lady with a heart for God.
8.
Musing of a Prairie Girl
. A homeschooling mom talks about her faith, her children and so forth. I have learned from her. :)
9.
Debtor2Mercy
. Her family, her faith. Makes me laugh, makes me think, not all posts are solid, but then again, neither are mine...one needs to include fluff as well doesn't one? :)
10. My lady
Jen
. Doesn't post as frequently as in the past. Appreciate her muchly. Love her cat pics...as does my boy child. See Toby cat? see Toby cat? :) The heart of a Christian lady, shows through in all she does. :)